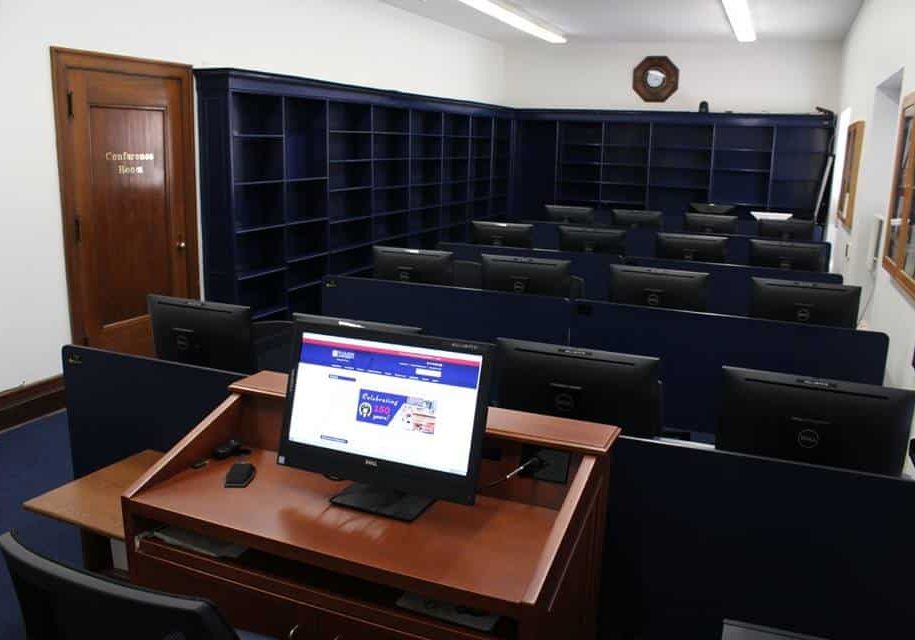 The Allegheny County Law Library has several spaces available for patrons to reserve for meetings or workshops. We have a consultation room suitable for one-on-one or small group meetings, a conference room for larger groups, and a computer lab classroom suitable for CLEs and workshops. The ACLL's Main Reading Room can also be reserved for special events held outside normal library hours.
If you wish to reserve use of the library's rooms, please contact us at 412-350-5353 or ACLL@carnegielibrary.org.
Consultation Room
Perfect for privacy during attorney/client meetings. The room is equipped with a PC, printer, Zoom capability, as well as a table and four chairs.
ACLL Members
Free
Non-Members
Per Hour: $25
Half Day: $50 
Full Day: $100
Conference Room
The library has a large conference room that may be rented for meetings, arbitrations, etc. New tables and chairs have just been installed and are ready for use. The tables easily accommodate seating for a total of 15 people. Additional seating is available for another 10 people.
ACLL Members
Free
Non-Members
Per Hour: $50 
Half Day: $150 
Full Day: $300
Classroom
The classroom features 16 computers with 21.5 inch monitors, an instructor's computer, and a projection and sound system. The classroom is configured to work with in-person, hybrid or remote presentations using Zoom or other videoconferencing systems. Computers in the lab have the following software installed: Microsoft Office 2016 (Word, Excel, PowerPoint), and Adobe Acrobat Reader.
Member Rental Rates
Per Hour: $50
Half Day: $125
Full Day: $200
Non-Member Rental Rates
Per Hour: $100
Half Day: $250
Full Day: $400
Combined Rental Rates for the Classroom & Conference Room
Per Hour $125
Half Day $300
Full Day $500